I'm pretty late to the game when it comes to new product reviews, mainly because I prefer to use them for a few weeks to give a thorough test before putting out my honest opinion. I'm sure first impression posts are great however, I'm sure you guys prefer knowing whether are these worth the purchase, right? (*•̀ᴗ•́*)و ̑̑
Judging by my blog title, I'm pretty sure you already know that I enjoy using the latest skincare range from
Althea Korea
- so let's jump straight into it!
Althea Bare Essentials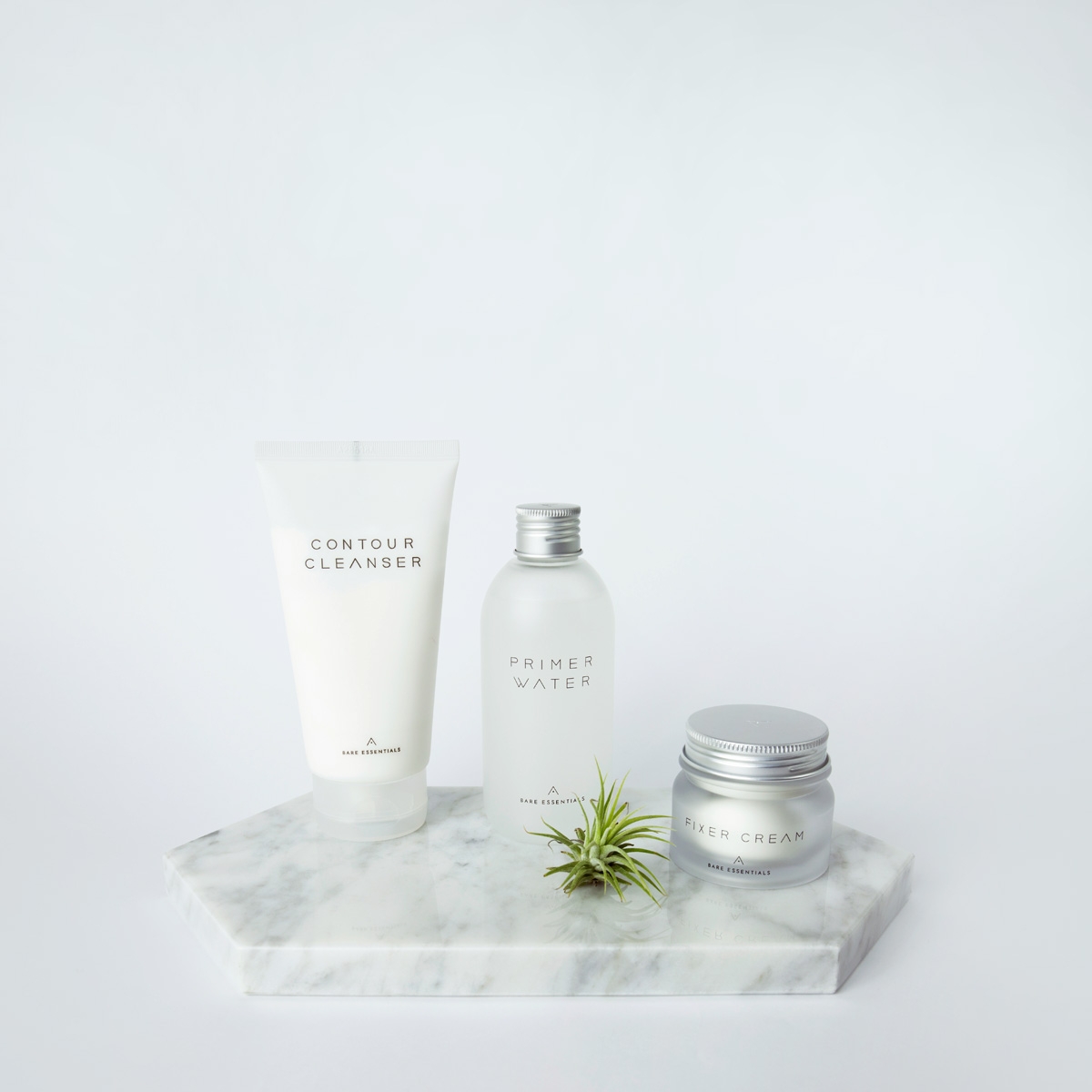 The first collection of Althea's very own skincare range features 3 essentials that we need in our daily routines:
Contour Cleanser, 150g/5.29 oz
Primer Water, 200ml/6.76fl.oz
Fixer Cream, 50g/1.76 oz
This Contour Cleanser is made with contouring the face in mind. Koreans, or most Asians, are obsessed with a small baby face thus it explains how this cleanser came about.
The main ingredients include the Ice Plant, a plant famed for storing huge amounts of water in the desert. The native plant from South Africa is responsible for providing cooling sensation which would inadvertently hydrate and calm the skin. Another main ingredient is the Lemon Verbena which contains vitamin C and antioxidants to strengthen the skin. This plant originates from South America and is believed to have 9 times more fragrance and detox effects than regular lemons.
I noticed that this cleanser is not your ordinary cleanser because it contains tiny bubbles which exfoliate the skin. I was careful when using this cleanser at first because my skin type is dry sensitive after all. After a few days using this only on mornings, I didn't notice any skin sensitivity thus I continued using this even at night. Though this cleanser isn't really free of fragrance, it's gentle enough to not irritate my skin. I'm glad to report that this cleanser was gentle enough for me to use on a daily basis!
I was so impressed with this cleanser that I even brought it with me during my travel to Japan. But the bad news was I accidentally left it in one of my hotel rooms (we were changing hotels every day). I was pretty bummed out but then again I knew that this cleanser was really affordable (RM23 for 150g/5.29oz) so means I can re-order this again without leaving a dent in my wallet!
Primer Water is basically a toner, which is to be used right after cleansing. Its main ingredient is
Snow Lotus
(smoothens and brightens the skin while evening out its texture) which has a patented 'dewdrop' formulation to revitalize the skin and provides immediate, effective moisture.
Snow Lotus was the favourite herb of the most beautiful women of the Chinese Imperial Court for centuries for its beauty-enhancing benefits. It is said to provide brightening and anti-aging benefits.
Many of my blogger friends have concluded this product is
⭐
THE STAR
⭐
of this Bare Essentials range & I couldn't agree more. The texture of this toner is pretty thick & slightly gel-like but it absorbs into the skin really quickly.
Primer Water reminds me a lot of those high-end toners which gives a luxurious after-feeling. It may come in a basic packaging, but it doesn't look or feel cheap at all. The minimalist typeface gives it a touch of class.
I'm already towards the end of using this toner and I really don't mind repurchasing this once it runs out.
Price: RM43
Rating: 5/5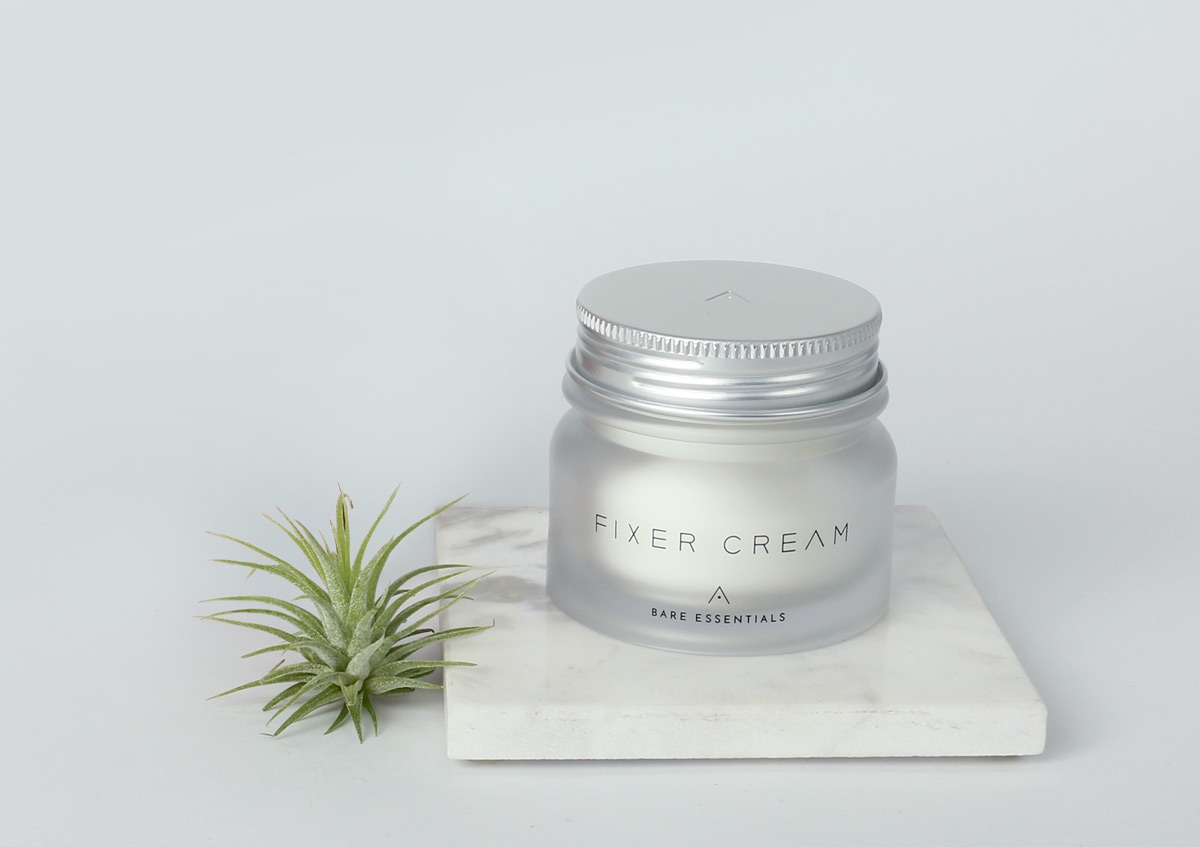 Fixer Cream is a moisturizer suitable for
all skin types
and it easily penetrates into the deep layers of the skin to plump them for 24-hour hydration.
It is made of 3 main ingredients:
Trehalose - Powerful humectant that retains moisture on the skin
Wild Green Tea - Hydrating, skin soothing and packed with antioxidants
Baobab Tree Extract - A non-greasy moisturizing agent that helps promote collagen production
What I like about this moisturizer is that it leaves a non-sticky finish once absorbed. It doesn't take long for it to be absorbed, thus I can apply my sunscreen almost immediately right after.
My dry & sensitive skin seems to love it as it doesn't break me out.
I would say this is great moisturizer for those who want a basic moisturizer, but it is not sufficient for those who have very dry skin or mature skin. For that, you might need a heavier cream as this is quite a "light-weight" cream.
Price: RM50
Rating: 4/5
(minus one only because I prefer something heavier for my skin)
*
*
*
As you can see in this pic, I'm already towards the end of Fixer Cream and halfway through Primer Water.
My Contour Cleanser is in Japan D:
In conclusion, the
Bare Essentials
skincare range is something great for people in their 20's, as these are basic skincare products that maintain youthful skin. For more protection / repairing properties, you may need something richer so that your skin is well-maintained.
As for me, it gives me great skin and I'm on my way to finish them.